Why do I need to aerate my soil?
Did you know you can get up to 22% increase in pasture growth?
Yes 22%!  This is the reason farmers aerate and subsoil their paddocks.  It will increase pasture growth and crop yields of 22% over an 18 month period.  By increasing the depth and growth of your roots means your pasture and crops will withstand the weather and extreme climates easier and makes them more resilient.
The purpose of subsoil aeration: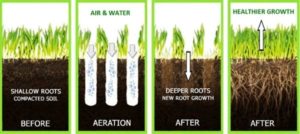 Soil compaction prevents the flow of nutrients & water to the roots of your grass & crops, leading onto lower dry matter in pasture & lower yields in crops. Subsoiling works by lifting the soil & fracturing the structure to create a looser & more 'aerated' soil that allows nutrients to flow & roots to grow.
Eliminates Compaction: By aerating soils you remove compaction damage from pugging & machinery traffic. Aeration is particularly important in high traffic areas such as water troughs, gateways & feed out areas where compaction levels are higher than the rest of the paddock. Aerated soils enable more vigorous & deeper root growth for healthier crops & plants.
Improved soil drainage: In the aerated soils there is also greater drainage of surplus ground water, this reduces & eliminates ponding & surface water on your paddocks, along with improved soil drainage comes a benefit of reduced runoff as the water is 'soaked' into the ground along with any nutrients that enhance growth.
Deeper Root Structure: Soil compaction seriously hampers root growth & the depth to which roots can grow, by sub soiling the ground is broken up to provide conditions for easier root growth, this results in more vigorous & deeper root structures that take up more nutrients & provide greater resilience in dry spells & other weather events, enabling pastures & crops to 'hold on' for longer.
Greater fertiliser uptake: When soils are compacted or do not have sufficient permeability, fertiliser is wasted. This is due to it not absorbing into the ground & simply vaporizing or washing off the surface & not into it. When soil is aerated & permeable the fertiliser absorbs into the soil & is more readily taken up by the roots.
Greater Soil Porosity: Greater porosity of soils means the level of oxygen is increased as it flows more freely in permeable ground, this speeds up plant growth as more oxygen becomes available at root level. On the other hand compacted soils decrease oxygen levels & increases the amount of carbon dioxide in the ground, this causes an eventual slow down in growth.